Method of Action 
Method of Action is an Awesome game to help you learn Design. For Free!
[the_ad_placement id="content-ads"]
To learn how to do: learn how to
[the_ad_placement id="content-ads"]
Why are we talking about these platform?
We believe

that as much as you ask for, much should

be Returned

.
And we think that these games have a lot to offer for those looking to learn a new skill set. Even though things are getting back to normal. And we start to go outside, these skills will continue to thrive in 2022 and beyond…
Who Created Method Of Action? 
Mark Mackay is a Creative and contributor who has funded this amazing learning tool for his " creative endeavors", who we feel should be recognized given on ReviewMents.com and individuals looking to learn.
Who uses this platform? 
According to Method Page'. Mostly Students who are assigned a task from teachers. Which makes it a creative resource to learn from. Yet, this wasn't just made for Students in a classroom. This is a job skill that can initiate your career. Which from Salary.com, " designers (make) about $57,000 (or about $27 per hour)". And if you have an Artist passion with some technical curiosity, then this is the Platform for you to start.
How is Method Of Action Free? 
Mr. MacKay has funded since the beginning, and I am sure will continue to fund it. Yet, as you visit the site, you will see that there is a request to support the platform. With a Cup of Coffee. Which we will donate to soon since we know that it gives so much to passionate learners. Thus, if you are able to support something that has given you something. We say support it. It is part of what the internet was meant to be…
[the_ad_placement id="content-ads"]
The Bézier Game  
In this article, we are going to focus on The Bézier Game, since it teaches you how to use the Pen tool; that you would find in
CorelDRAW
,
Adobe Illustrator
&
Photoshop
.
It was made to create objects like a circle or square. And since then has evolved to allow Designer to create awesome Illustration.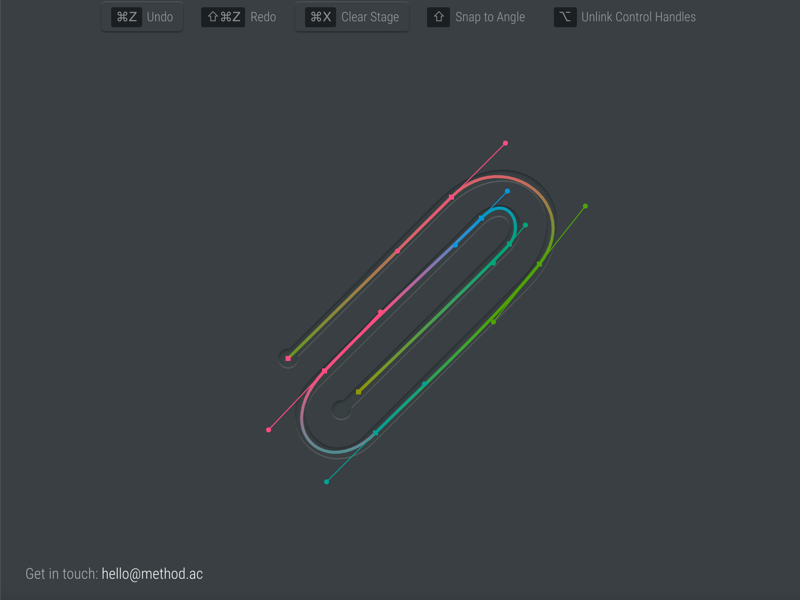 How to play and Learn from The Bezier Game?
Since we want you to learn as much as you can, we will only give a brief description
When you initiate the game you will see half a corner square to start you off.
With your Mouse, you are going to Click on the Blue Blinking light and drag it to the right corn until you reach the endpoint of the drawing

.
[the_ad_placement id="content-ads"]
Once you get the right side click on that corner and continue with the mouse downward to find is the skill test.
2. When starting you will have a mini-tutorial showing you have to connect the dots in a sense.
3. You will work with basic designs and work your way up. One thing that I did notice is that it embeds the idea that precision is mandatory. If you are a centimeter off, you will not complete the Design.
Ready to start learning Design for free?
Let us know when you get to Heart…
We highly recommend trying it out. There is no need to create an account or register. Visit Method Of Action and pick the Tool you want to learn on how to use and let the games begin.
If you want to know how to create a website (html) leave us a comment below and we will give you our number one site to learn and earn a certification for free
.
[the_ad_placement id="content-ads"]
Share this if you feel it can help someone or just get started one game at a time. Before you know it, it may change your life.