What is Spin Rewriter?
Creating content in Spin Rewriter 12 allows you generate non plagiarized article. Spin Rewriter 12 is a unique AI algorithm platform that spins great content on all Niches. This web-based AI software
is developed by
Aaron Sustar. Who has improved it over the last 10 years. (*Note: from the time of this article)
Spin Rewriter content is so unique that it never Spins duplicate content. Speed & quality is what sets Spin Rewriter apart in the market for writing new and fresh content. It spins content (articles) with a excellent readability from sentence to paragraph.
Spin Rewriter technology comes from (ENL) Emulated Natural Language. ENL uses context from your old Article content to Spin or Rewrite a unique articles or content, that you are able to use as your own.
What is the best rewriter tool?
What is the best rewriter tool?
Currently we are suggesting Spin Rewriter.
However
, we are creating another (Reviewment) on a new tool. Subscribe to our mailing list to get the new updates!
How do you use the Spin Rewriter?
How do you use the Spin Rewriter?
Spin Rewriter has an easy to understand control panel. As you can see, you will get tabs Home, Rewrite, My Archive. Let me get My Archive our of the way. Once you have create or requested an Article, it will saved on your Archive.
How to start using Spin Rewriter Guide:
1: Choose Single or
Multiple
Articles
So to start using Spin Rewriter. You can select from two options. Rewrite a Single Article, which you will find on the left side. Or you can select Rewrite
Multiple
Articles from the right side. Spin Rewriter for a Single Article will take you to the Next Tab.
2: Spin Rewriting old content to new
Enter or add the content you would like to Spin.
And before you click on "Rewrite Article", you will have the option to change your Spin Rewriter setting
.
3: Adjusting you setting in Spin Rewriter
These setting have the following option to consider when requesting the output of your article
.
Automatically

rewrite sentences (This can rewrite at the sentences level while keeping the context of the idea

.)

Automatically

rewrite entire paragraphs (This can rewrite the whole paragraphs while still keeping the context of the paragraph

.)

Automatically

write new paragraphs and summaries (This will create all new content and will change the context or idea of the paragraph

.)

Automatically

change the structure of phrases and sentences (This will change speech and tone of the context of the content

.) Ex: Relax and read a book / Read a book and relax
We recommend to stay with Rewrite sentences and rewrite entire paragraph. Once you want to manual changes then enable with the last option.
4: Ready for Spin Rewriter to create my Article
Click on the yellow Rewrite Article button on your right lower corner. The fast speed in which the articles
is created
is amazing. And you will have more time in your proactivity.
5: Putting the Final touches on your Article
Now you can you start editing the parts of your Spin Rewriter Article that needs your attention
. What you want to scan over is the Readability of the Article. Remember nothing is 100% perfect, but with Spin Rewriter, your process
is cut
in half.
Instead having writers block, you have somewhere to start from and that gives you the ability to give it your contextual direction
.
Spin Rewriter Bonus
Spin Rewriter give you
additional
tools that you will help you in your process of creating a complete article
. Below is a list of those tools that will the difference in your Spin Rewriter Article.
Content Screener : Value of $39.95 / Free App
Knowing if you content is consider plagiarism by google and other search engines is very important. We are all looking to rank higher on google and so on.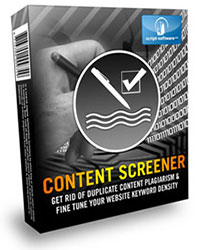 It helps you to compare you old article with your new article side by side.

Spin Rewriter content Screener gives you a percentage rate of what

is duplicated

content

.

It will color highlight the exact text that

is duplicated

.

Keyword density feature which tells you which keyword is the dominant in your article

. We used it for one of our last article

Available for Windows XP, Vista, 7, 8, 10 and newer. MacOS 
Article Helper : Value $19.95 / Free App
This app helps you to keeps you article ideas in check. When you have lots of Ideas and are brainstorming. Article Helper will keep you organized. It has a reminder feature in case your attention
is need
somewhere else. Lets say you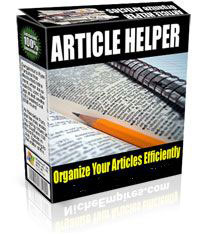 are writing and need to take call, schedule a reminder for 15mins. And you will know when to get back on track.
Available for Windows XP, Vista, 7, 8, 10 and newer. MacOS
Article Into Video: Value $19.95 / Free E-book
Integrating Article and Video Marketing
In connection with this e-book we

highly

recommend

VMB
Helps you with Title, Description, Tags and will generate new ones.

Competitor Analyzer & much more…
30-Minute Keywords: Value $29.99 / Free E-books
Writing Articles without knowing what keywords can make you a profit is worthless. Don't waste your time with writing these types of articles.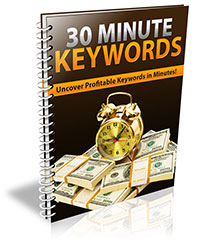 Simplify Keyword Research

Long-tail versus short-tail keywords

Keyword research strategies
Content Marketing Strategies: Value $29.95 / Free E-boo
k
Delivering a Consistent Message

Market Your Blog & much more…
Ultimate Link Building: Value $29.95 / Free E-boo
k
This amazing e-book presents:
The importance of backlinks

Search engine optimization basics

10 ways to build backlinks
If you need a better way to rewrite content then we ask that you use our Affiliate Links from this Article to support our love of bringing you content. Thank you for being here and We thank you for your time.
Affiliate Link

Does Spin Rewriter support more languages other than English?
As stated on there site, it only supports English and will not add this feature in the neither future. However, we can suggest the #1 Translator that is better than Google Translator. Deepl Can easily help you translate your article with 95% of content accuracy. If you like this solution or find Spin Rewriter and Deepl useful, leave a comment. I would like to hear about your experience with Spin Rewriter and Deepl Translator tool.
Is Spin Rewriter only changing the context of my original Article?
No, since the technology isn't just rearrange the words in an Article. It uses ENL Tech to understand the context of what the Article is presenting. And Spins a unique article using "hand accurate" database to produce fully automated result.